Prisoners 'should recompense victims from jail wages'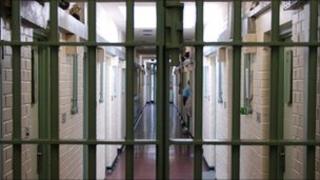 Prisoners should pay some of the money they earn in jail to victims and society for the harm they have caused, the Ministry of Justice has proposed.
A spokesman said the MoJ was exploring how the Prisoners' Earnings Act 1996 could be used to make wage deductions.
The move is part of Justice Secretary Kenneth Clarke's plans to overhaul the rehabilitation of offenders.
Juliet Lyon, director of the Prison Reform Trust, said the plans "made good sense".
The proposals could be officially announced at the Tory Party conference in Birmingham next week.
A Ministry of Justice spokesman said: "The government believes that offenders should make reparations to victims and society for the harm they have caused and, as part of this, we are exploring how we might use the Prisoners' Earnings Act 1996 to allow us to make deductions from prisoners earning enhanced wages.
Payback
"These deductions would be paid into a fund, which would provide support for victims of crime."
He said the plans were part of the government's commitment to overhaul the rehabilitation system "through ensuring prisoners spend more time doing productive, meaningful work".
"Improving offenders' employment skills while in custody can help prisoners to become productive members of society and improve their chances of gaining employment on release, which we know is a major contributor to turning people away from crime," he added.
Ms Lyon welcomed the plans, saying: "A prison sentence that combines payback to victims with a proper wage for hard work makes good sense."
But she said that, for such a fund to mean anything, the average prison wage of £8 a week needed to be reviewed.
Bobby Cummines, chief executive of Unlock, the national association of ex-offenders, dismissed plans as "absolute madness".
"They've not looked at the wider picture - the pittance prisoners earn would mean nothing to victims, but not being able to buy £5 luxuries might drive some prisoners into drug dealing, it could create a criminal industry.
"If they are going to go down that route, they should give prisoners proper work with a proper wage - then a third of that should be given to victims, a third should be spent on their keep, and a third on resettlement after their release," he said.
Conservative plans for a Victims' Fund, which would provide additional compensation to victims on top of the existing criminal injuries scheme, were outlined by David Cameron when the Tories were still in opposition in March 2008.