East Coast trains least punctual: Network Rail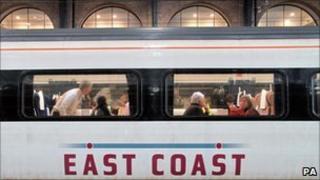 The UK's only public sector train firm had the poorest punctuality last month, figures have shown.
The London to Scotland East Coast line had 85.2% of trains on time - the only passenger train company not to achieve a punctuality figure of at least 91%.
The figures from Network Rail, which owns and operates the rail network, cover 22 August to 18 September.
The UK operator said the East Coast delays were mainly caused by factors out of its control such as cable theft.
'Good month'
The theft at Newark in Nottinghamshire on 10 September brought the East Coast line to a halt for many hours, Network Rail said.
Problems with overhead lines on 31 August south of Peterborough also affected East Coast services, it added.
East Coast services are operated on behalf of the Department for Transport.
Overall, the train companies averaged 93.5% punctuality during the four-week period - down slightly on the same period last year.
Chiltern trains were the most punctual in September, with 97.3% running on time, and 13 of the 19 companies had improved their performance compared to last September.
Virgin Trains, which operates the West Coast Main Line, was the most improved, up from 89% to 91.3%.
Network Rail director Robin Gisby said September had been a good month for delivering a high-quality, punctual service to millions of passengers and freight users.
An East Coast spokesman said it would have hit its punctuality target had it not been for continued factors outside its control.
"For the second consecutive four-week period, the top three causes of delay were due to infrastructure and other external factors including cable theft, damage to overhead power lines and breakdowns involving other operators' trains," he said.
The Association of Train Operating Companies said the rail industry was committed to improving services, as demonstrated by the "consistently high levels of punctuality".