Met police chief's internet crime warning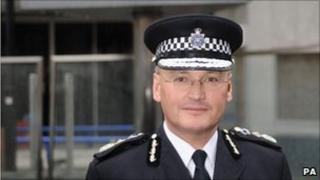 Police specialists in internet crime are as crucial as uniformed officers, Britain's top policeman says.
Metropolitan Police chief Sir Paul Stephenson said high-speed internet not only benefits UK commerce, but also increasingly skilled cyber-criminals.
"If British crime gangs take up e-crime as enthusiastically as we fear, we [must] match the skills at their disposal," he said.
He said e-crime caused "deep distress" to victims and threatened the economy.
Writing in the Sunday Telegraph, Sir Paul called for a "balanced model" of policing, with specialist units - such as the Police Central e-Crime Unit, the kidnap unit and child abuse investigation team - and visible uniformed officers.
The commissioner wrote: "Some commentators argue that we should concentrate on uniformed policing and draw back from specialised work that could be done by others.
"Leave cyber-crime to the banks and retailers to sort out, the argument runs. It's a fundamentally misguided argument.
"If the debate about police cutbacks gets bogged down in arguments about 'uniforms before specialists', we will not serve the public well."
Last week 19 people were arrested across London on suspicion of stealing at least £6m from online bank accounts in the past three months.
'Expertise thin'
The UK arrests were part of an international operation, in which the FBI arrested 90 suspected members of the crime ring in the US. The FBI described it as "one of the largest cyber criminal cases we have ever investigated".
Sir Paul said: "There are disturbing signs that traditional British organised crimes is waking up to the profits and uses of e-crime."
He said that of the 385 officers in England and Wales dedicated to online work, 85% were tackling people-trafficking and child pornography, leaving fewer than 60 to fight financial crimes such as bank fraud.
"My investigators tell me the expertise available to law enforcement is thin, compared to the skills they suspect are at the disposal of cyber criminals," he said.
The Met's e-crime unit cost £2.75m to run last year.
"It has been estimated that for every £1 spent on the virtual task force, it has prevented £21 in theft," Sir Paul said.