Woman canoeist dies during trip on River Dane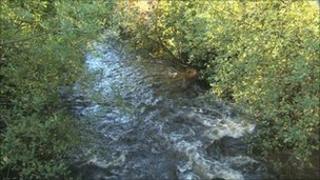 A woman has died after going missing while canoeing with friends on a river near the border between Staffordshire and Cheshire.
West Midlands Ambulance Service was called to reports of a missing canoeist on the River Dane, near Gradbach, Buxton, at about 1430 BST on Sunday.
The woman - who has not been named - was found in the water about a quarter of a mile down river an hour later.
Attempts to save her failed and she was confirmed dead at the scene.
A West Midlands Ambulance Service spokeswoman said: "The woman had reportedly been canoeing on the River Dane with friends when the incident happened.
"Staff from ambulance, fire and rescue, police and mountain rescue services worked together on scene to help locate [her]."
Rescue boats and a police helicopter with a thermal imaging camera were also used in the search, they added.
"Unfortunately, despite the best efforts of ambulance crews and fellow emergency service personnel, nothing could be done to save the woman."
The rescue mission also involved ambulance crews from a neighbouring county as well as fire and rescue services and police from Staffordshire, Derbyshire and Cheshire.