MoD names Gurkha soldier killed in Afghan explosion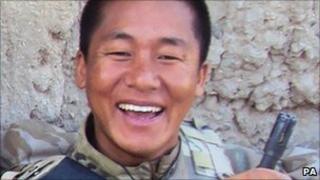 A soldier killed in an explosion while on patrol in Helmand Province in Afghanistan has been named as Rifleman Suraj Gurung.
The Ministry of Defence said he was serving with 1st Battalion The Royal Gurkha Rifles.
Rifleman Gurung died on Saturday afternoon in Nahr-e Saraj. Next of kin have been informed.
His death brings the total number of UK service personnel killed in Afghanistan since 2001 to 339.
His family said he "died doing the job he loved".
The 22-year-old was recently married, the MoD said. He was born and raised in the Nepalese hill town of Pokhara.
"He was a very caring son and loving husband," a statement from the family said.
"He followed his forefathers' footsteps as both his grandfather and father served with the British in India, and his father-in-law served in the British Army."
'A cracking soldier'
He had been searching for improvised explosive devices at the front of his platoon on patrol after an attack on their base, when a suicide bomber detonated a device.
He had joined the Army in December 2007 and moved to the Catterick base in North Yorkshire a month later for training as a rifleman.
Maj David Jones, Officer Commanding C Company, 1st Battalion The Royal Gurkha Rifles, said he had been "destined for promotion".
"Rifleman Suraj was everything that the man who killed him was not. He was brave, courageous, considerate, compassionate and kind.
"A cracking soldier, respected by all, he had unflinchingly led his multiple down some of the most daunting alleyways and across some of the most haunting ground, every single day for the last six months.
"He was one of the very best of his generation and almost certainly destined for promotion. I personally will remember him for his trademark booming voice cheerfully singing out 'morning sahib' as he passed my office on his way to breakfast each day. Tomorrow there will be no such greeting."
Rifleman Asham Thapa and Rifleman Santosh Gurung, 1st Battalion The Royal Gurkha Rifles, said their close friend always led from the front as the "vallon man", using a metal detector to search for hidden bombs.
They said: "He was a brave soldier, always wanting to lead the multiple from the front and loved the responsibility of being the 'vallon man', the job he was doing when he died.
"He could often be found messaging his wife on the internet, picking up the nickname 'netboy'."