AQA exam board faces GCSE and A-level marking inquiry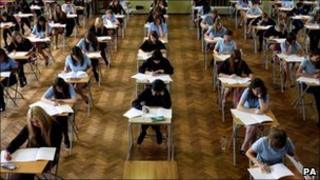 The exams watchdog Ofqual has announced an inquiry into the AQA exam board's failure to mark about 600 GCSE and A-level exams fully.
Some students who sat exams in England, Wales or Northern Ireland got lower grades than they should have, it said.
The mis-marking affects about 150 A-level students, 290 AS level students and 190 GCSE students, Ofqual added.
AQA's chief executive said a small number of papers were involved and apologised for any distress caused.
University applications hit a record high this year, and it is possible that students may have missed out on degree course places by being given the wrong grades.
The exam board, the largest in England, discovered the mistakes through its routine checking procedures.
"This is a very serious matter," said Ofqual's chief executive Isabel Nisbet.
She said AQA had given assurances that the affected candidates would receive their updated marks as soon as possible.
Ofqual would then focus on what went wrong and why it was not spotted sooner, she said.
'Extremely rare'
In a statement, AQA said it had "identified material in a small number of papers that had not been fully marked".
"We are extremely sorry for any distress caused as a result of the original incomplete mark and are reviewing our processes to ensure there is no repeat of this error," said the board's chief executive Andrew Hall.
"Errors of this type are extremely rare," he added.
AQA said it was contacting affected schools, had extended a deadline for exam results queries and had set up a helpline.
Anyone concerned they have been affected can ring 0844 2096614.
Ofqual announced the inquiry on behalf of the exam regulators in England, Wales and Northern Ireland.
Ofqual announced the inquiry on behalf of exam regulators in England, Wales and Northern Ireland, where AQA sets and marks exams.