Newspaper review: Papers divided on child benefit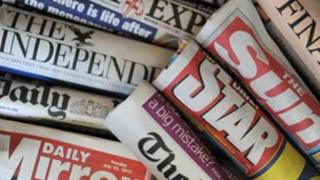 "Bold and impressive" is the Times' verdict on George Osborne's decision to do away with universal child benefit.
The paper calls it a "brave decision" by the chancellor, given that the losers are the articulate middle class.
The Sun says it is wrong to give money to those who do not need it.
The Financial Times believes he should go further. "Free bus passes, winter fuel payments and free TV licences for the elderly, regardless of need, look insupportable," it says.
'Blatant anomaly'
The Daily Express calls the child benefit cut by the chancellor a "new tax raid on families".
The Daily Telegraph brands it "brutal" and "unfair".
The paper is unhappy that a family with one breadwinner earning £50,000 would lose the benefit while another with two parents earning £42,000 each would remain unaffected.
The Daily Mail says it is firmly behind the war on the deficit but this "anomaly" is difficult to accept.
'Super sponger'
There is support for the announcement of a cap on the benefits paid to households in which no-one is in work.
The Daily Star's headline is "death of the super sponger".
But the Independent says Labour's tax credits system had already done much to remove disincentives to work, and it asks whether the jobs are there for the unemployed to chase.
The Guardian warns the cap will have social consequences and that people will be forced out of their homes.
'Thrilling' victory
Europe's victorious Ryder Cup golfers are widely hailed as "heroes", and pictures of their celebrations in south Wales are all over the papers.
The Daily Mirror calls Europe's last-gasp victory "thrilling", while the Guardian says the team were "inspired".
The Independent judges captain Colin Montgomerie's strategy to have been close to perfection. The Sun says Montgomerie fought back the tears.
"For one day only," says the Daily Telegraph, "we're all pro-European".