DEC's Pakistan flood appeal tops £60m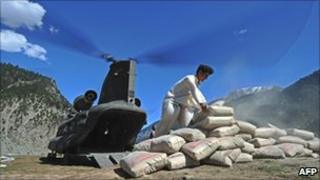 The British public has now given £60m to help the victims of the Pakistan floods, the Disasters Emergency Committee has said.
This is the highest amount raised by an appeal by the umbrella group of charities since the 2004 tsunami and this year's Haiti earthquake.
DEC chief executive Brendan Gormley called the response "extraordinary".
But he said the sheer scale of the disaster meant there was an "enormous amount of work" still to be done.
The DEC said the vast scale of the emergency, limits on the capacity of the Pakistan government and a comparatively slow start in help from parts of the international community had meant that many of 20 million people affected still urgently required assistance.
Access to some areas also remained restricted by flood waters or damage to roads and bridges.
Massive response
Mr Gormley said: "We are hugely grateful to everyone who has shown their support. Donors to the DEC can be proud of the work they are helping to fund.
"Our members had strong teams and partners in place before the flooding struck and have now mobilised a massive response.
"The sheer scale of the flooding means that there is an enormous amount of work still to be done."
The UN continues to report huge funding shortfalls in critical areas of its operations including food, agricultural support and emergency shelter.
It launched a second appeal for funds last month when the film star Angelina Jolie arrived in the country to highlight its plight.
The DEC said emergency shelter remained an urgent priority after 1.9 million homes were damaged or destroyed by the floods.
There had not been enough suitable tents available, despite the fact that Pakistan was the world's leading manufacturer.
It will now be providing 155,000 people with tarpaulins and tents.
Money was also being targeted to provide clean water, toilets and hygiene support for 550,000 people and healthcare for 359,000 people, including assistance for malnourished children, pregnant woman and the elderly.
Additionally food, emergency shelter and household items such as pots and pans were also being provided.
In all provinces except Sindh, the majority of the displaced have either returned to their home areas or are in the process of moving back.
Diarrhoea and malaria remain very serious concerns in Punjab and Sindh due to hot weather, standing water, and poor access to clean water and safe toilets.