Prison work reforms: the response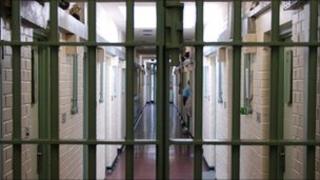 In his address to the Conservative Party conference, the justice secretary has said inmates should work a 40-hour week while in prison, be paid the minimum wage and give some of their wages to victims' charities.
Prisoners' charities, former inmates and prison authorities have been giving their reaction to Kenneth Clarke's plans, which also include encouraging private companies to help train and employ inmates.
LUCY, FORMER PRISONER
"I am an ex-prisoner and in my very short spell of imprisonment spent time in two prisons. The first had very few sensible work opportunities for female prisoners - ie making hairnets! The same prison that launched, on the male side, the new pay for no reoffending scheme.
"At the open prison I was working in a workshop doing light assembly for Screwfix - which I suppose would help towards an outside job if I needed it. The working hours are quite short and certainly not a comparison to a normal working day.
"I think it would be a good idea for prisoners to work 40 hours a week and to pay some recompense - this will go some way to rehabilitation and learning responsibility. If prison is going to work it has to help prisoners learn to face life on the outside and a work ethic is a very good start."
FRANCES COOK, HOWARD LEAGUE FOR PENAL REFORM
"You can't and you shouldn't force prisoners to give their wages to charities. A much better idea is to get them to pay tax, to earn more money, to contribute to their families, and then encourage them to be responsible citizens.
"And then invite them to make contributions out of their wages to victims' charities."
DAVID TAYLOR, GOVERNOR, WANDSWORTH PRISON
"If we did nothing with them at all during their time in custody, what would we have at the end of the process? No-one has had the opportunity to address their offending behaviour or improve their skills to give them the opportunity to be employed.
"The reason we do it is because that will help reduce reoffending, and by default we're protecting the public further."
JULIET LYON, DIRECTOR, PRISON REFORM TRUST
"It sounds a lot less like wasting time and a lot more like doing time, so the Prison Reform Trust is supportive.
"As things stand at the moment, there is certainly very little work in prison and the average wage for a prisoner per week is about £8.
"So something that is actually about real work and real wages and real responsibilities is obviously to be welcomed.
"There are big questions about will there be enough work? Will it equip people with skills and reduce reoffending rates? What about people with disabilities and older inmates? But in principle, the direction is absolutely the right one. There's far too much time wasted in prison as it stands at the moment."
STEVEN BATTRAM, FORMER PRISONER
"So now they want prisoners to pay compensation. Where does it end? Criminals are sent to prison for their crimes, why should they pay for it too? As it is, prisoners are paid a pittance. They are treated as slaves, many are paid as little as £8 a week.
"It's a good idea if you're going to get a proper wage. I think if you've been sentenced, that is the punishment isn't it? Maybe a lot of people would say I'm not going to work if you're going to take that money off me.
"I don't understand how they're going to implement it, I can't see how they're going to employ all those people in prisons. How are they going to employ all those people?
"It'll be doing the jobs the people won't do outside. It's not going to be skilled work, it'll be mundane, unskilled jobs."
DR MARY HARRIS, NATIONAL GRID YOUNG OFFENDER PROGRAMME
"The people who are going through our programme are going into proper jobs on release.
"If you have a genuine job and if that job is paying the same as other employers and there is no ghettoisation, then the reoffending rate does come down.
"The problem we have, I think, is we need more offenders released on temporary license. So we need to make sure the prisons have made the prisoners safe.
"We are talking about real jobs - this is not a charitable process - that are going towards the bottom lines of our companies. Their motivation has to be as high, or higher, than people who come to us through regular routes.
"We have become very experienced at taking prisoners who have been made safe, almost irrespective of their prison backgrounds.
"But it would be totally ridiculous and cloud-cuckoo land to say the industry are not going to look at the whole spectrum of employees."