FBU calls for regional fire centres to be scrapped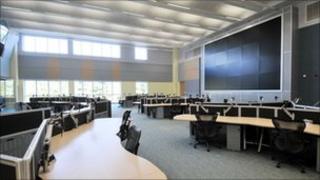 Firefighters' leaders are urging the government to scrap plans to replace 46 fire control rooms in England with nine new regional centres.
The Fire Brigades Union said millions of pounds could be saved by abandoning the plan.
The new centres, planned by the last Labour government, had been plagued by overspend and delays, it said.
Fire Minister Bob Neill said he was increasingly concerned at the failure to get the new centres operational.
The Fire Control plan was intended to replace 46 local control centres in England with nine new control rooms as part of a £423m project to regionalise the service.
Empty centres
Under new coalition government plans, the local centres will still be replaced, but there will no longer be regionalised fire brigades; instead they will remain under local control.
But the new centres are still standing empty because of problems with their computers.
The contractor hired to install the project's computer system - EADS - said it was "committed to delivering the programme on budget and to the mutually agreed deadline".
The FBU said rent on the empty centres alone had cost the taxpayer £6.5m.
The FBU said money should be spent instead on upgrading the existing local centres.
"The government should scrap this project now, saving the taxpayer millions, and invest in existing fire controls across England," said FBU official Sharon Riley.
"Missed deadlines and huge overspend apart, the thinking behind Fire Control is deeply flawed. The public should be aware what the Fire Control project would mean for them.
"Instead of relying on experienced local firefighter control staff, calls could be answered hundreds of miles away."
Behind schedule
EADS - a defence contractor - was hired in 2007 to install the computer systems in the centres, as well as in 1,400 fire stations and 3,400 fire engines, providing an interlinked response service.
Mr Neill said: "The last government's Fire Control project is behind schedule and over budget.
"The new government is becoming increasingly concerned at the inability of EADS to deliver on its contractual obligations to a sufficient quality and to time.
"We are not going to provide additional public funding to bail out this contract, and we are going to stand up for the interests of hard-pressed taxpayers and the Fire and Rescue Service.
"The government is committed to ensuring value for money for the taxpayer, improving resilience and stopping the forced regionalisation of the fire service."