MoD 'to re-negotiate' defence deals in bid to save cash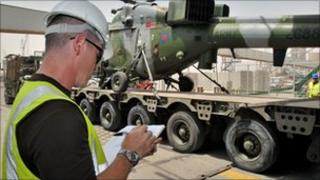 The Ministry of Defence is to try to save millions by re-negotiating the 40-year-old rules on defence contracts.
Procurement Minister Peter Luff told the BBC the current rules were heavily weighted towards the private sector and overdue for reform.
This could lead to the MoD reducing the cost of new military equipment.
At present the rules, dating back to 1968, mean the MoD contributes towards contractors' office running costs, pensions and redundancy payments.
Defence companies will contribute towards a review of the rules, which is likely to take 18 months.
Far advanced
New rules could also enable the MoD to renegotiate some existing long-term contracts, said Mr Luff.
According to the BBC's Carole Walker, it is thought unlikely this will apply to the contracts to build two new aircraft carriers, because the projects are so far advanced.
Former Prime Minister Gordon Brown has said cancelling either of the carriers would be a betrayal of the shipyards which are building them.
The news emerged as Defence Secretary Liam Fox warned that the MoD would not be able to do all it would like to.
This, he said, was because of the deficit and the "shambolic" mess left by the previous government. Some big decisions are due to be made this week, he said.