Over-50s apprenticeships double, say charities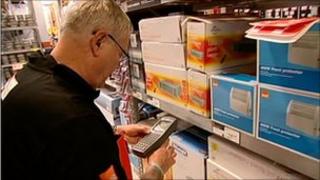 The number of people aged over 50 taking up apprenticeships has nearly doubled in two years, say charities.
Age UK and The Age Employment Network said a rapid expansion of places in 2007 coupled with the recession has led to the rise in "silver apprentices".
According to the charities, the number of apprenticeships taken up by the over-50s jumped from just over 2,600 to more than 5,000 in that time.
The figure includes 400 people in their 60s and 13 in their 70s.
Younger people still account for 75% of apprentices, but Age UK said the number of 25-plus apprentices more than doubled between 2007/08 and 2008/09 at the height of the recession.
The number of 50-plus apprentices rose from 2,605 to 5,376 over the same period.
'Commitment to working'
One older worker, Terry Robinson, 71, said his one-year apprenticeship in retail sales was a "real success".
He said it was by invitation only that 150 employees out of 4,000 began apprenticeships at the DIY retailer B&Q.
"My feeling is that if you work for an employer you are duty bound to give your best, and the way you can give your best is to take on board any training that is offered," he told the BBC News channel.
Mr Robinson said that working 20 hours a week brings in some money, but also keeps him active and fit, while doing something he enjoys - interacting with the public.
Sara Osborne, of Age UK, said the rise showed there were a lot of older people who still wanted to work.
"It shows their commitment to working longer, because we are all living longer, and also wanting to take training opportunities within the workplace to enhance their skills, and continue to contribute to society in that way."
Employers should welcome skills that older workers bring, she said.
The Revenue and Customs website says employers are exempt from paying the full minimum wage to older apprentices for the first 12 months.
Age UK is urging the government to maintain opportunities for older people to take up apprenticeships in the face of impending spending cuts.