Troops to get more stress support on return home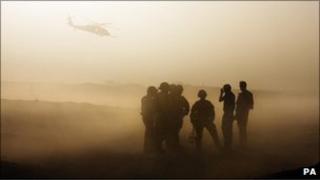 Measures to help soldiers who have returned from Iraq and Afghanistan to deal with the symptoms of post-traumatic stress have been unveiled.
There will be a 24-hour helpline and extra mental health nurses to support those who have served in the forces.
They are among steps recommended in a report commissioned by Prime Minister David Cameron.
The measures were announced by Defence Secretary Liam Fox at the Conservative Party conference.
BBC defence correspondent Jonathan Beale said that, although cases of post-traumatic stress disorder (PTSD) among British troops had been relatively low in comparison with American military personnel, the problem was expected to get worse in the long term.
Support networks
Recent research found that one in four of those who fought in Iraq suffered mental health problems, with one in 20 diagnosed with PTSD.
Dr Fox told the Conservative conference in Birmingham that work was continuing to improve mental health care for the armed forces.
But he added: "Due to the urgency of the issue, I'm pleased to announce that we will put into place two key recommendations immediately - a dedicated 24-hour support line for veterans, and introducing 30 dedicated mental health nurses in mental health trusts to ensure the right support is organised specifically for veterans."
Mr Cameron commissioned the report, focusing on mental health, as part of the Conservatives' commitment to improve care for veterans and serving troops.
The findings were made by Conservative MP Andrew Murrison, a former medical officer in the Royal Navy who served in Iraq.
The Ministry of Defence and Department of Health will also look at improving mental health screening and increasing voluntary support networks for troops who have fought on the front line.
Dr Fox told a fringe meeting at the conference in Birmingham: "In my book, the unacceptably high level of suicide among our veterans is a matter of national shame and it does take priority over any investment in other welfare issues I am looking at."