Newspaper review: Pressure kept up on child benefit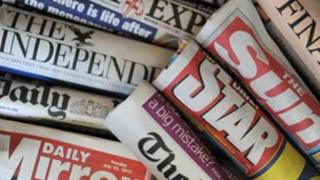 The papers keep up the pressure on the Conservative leadership over the impact of their child benefit proposals.
For the Times, introducing tax breaks for couples affected by the loss of the payments was the "smell of retreat".
The Financial Times says it has muddled the message that the cuts will include harsh measures for high earners too.
The Guardian says Prime Minister David Cameron was forced to apologise to voters on a day of policy wobbles in the Conservative high command.
'Cause for concern'
The Daily Telegraph says stay-at-home mothers with husbands earning more than £44,000 are rightly affronted at being singled out for a punitive benefit cut.
It suspects that with tough measures against lower-paid workers imminent, it was deemed "clever politics" to take a "pre-emptive tilt" at higher taxpayers.
The Daily Mail says a multitude of loopholes have already been identified.
"If this is the standard of preparation going into the cuts programme, don't we all have cause for concern?" it asks.
Jail work
There is a more positive reaction to another of the Tories' announcements.
That is the proposal to encourage prisoners in England and Wales to work full-time, with part of their earnings going to the victims of crime.
The Independent says it is hard to know what not to like about it - many more prisoners will have something useful to do and a reason to do it.
The Daily Telegraph says Justice Secretary Ken Clarke's suggestion is a "good one".
Name gaffe
The papers report that the Commonwealth Games organising committee chairman managed to confuse the Duchess of Cornwall with Princess Diana.
It adds to what the Daily Express calls the catalogue of gaffes, blunders and mistakes overshadowing the event.
According to the Sun, Suresh Kalmadi told a news conference that Princess Diana had been at the opening ceremony in Delhi on Sunday.
He then corrected himself, saying he had meant Camilla.