Healthy hive training offered to novice beekeepers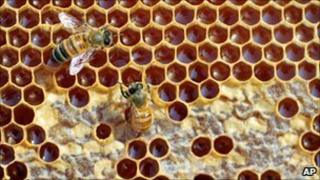 Hundreds of volunteers in England and Wales are to be trained to teach amateur beekeepers how to keep their hives healthy over winter.
The decline in honeybees is prompting more people to take up beekeeping, but there are concerns that novices are not skilled at keeping their hives healthy.
Hives not kept free of disease are more likely to be lost during the winter.
The National Bee Unit said that last year 16% of colonies died over winter, compared to 14% the previous year.
Under the new project as part of the government's healthy bees plan, 400 part-time volunteers will be trained to take a number of steps in autumn and winter to ensure bee colonies survive cold weather.
The measures include checking for pests and treating the varroa mite which is a key problem for honeybee hives, checking the health of the queen bee, making sure the hive is waterproof and providing supplementary feeding if necessary.
The aim is for the volunteers to be trained to deliver courses to beekeepers through the British Beekeepers' Association's (BBKA) network of 160 local associations, using a "course in a case" full of training materials.
Environment minister Lord Henley said: "Bees are essential to putting food on our table and worth £200m to Britain every year through pollinating our crops.
"This training will help the many new beekeepers keep their hives healthy and bees buzzing."
Head of the National Bee Unit, Mike Brown, said: "More and more people are starting beekeeping, which is brilliant - it is a release from the pressures of modern life and helps the environment.
"But it should not be taken lightly, and it's best to find a mentor with practical experience as well as getting advice from us."
BBKA president Martin Smith said: "We look forward to working with the National Bee Unit to ensure that the band of new trainers have the high-quality teaching materials they need to be a viable support to our local associations, whose teaching and mentoring resources have become strained to breaking point."