Poppy Appeal launches CD of wartime prose and poetry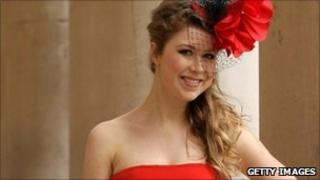 Soprano Hayley Westenra has launched an album of readings of wartime poetry and prose to raise money for the Royal British Legion's 90th Poppy Appeal.
We Will Remember Them includes poems and news reports from World War I through to writing by servicemen in Iraq and Afghanistan.
The album contains, among others, recordings by Dame Vera Lynn, Stephen Fry and Joanna Lumley.
It will be released on 18 October and the charity will get £1 from each sale.
Ms Westenra said: "It is an album of remembrance with readings of the best and most beautiful poems and news readings set to well-chosen classical music.
"It was a real honour to be asked to be involved with this because I'm normally a singer. To be able to do a reading was a really great experience.
"It is for the 90th anniversary of the Poppy Appeal and the Royal British Legion are trying to raise £90m, which is a mighty goal indeed."
The target is three times as high as the figure raised by the appeal in 2009 - a total of £34m.
'A personal time'
Actors Bernard Cribbins and Simon Williams were also involved with the project and attended the launch at the Imperial War Museum in London.
The CD features Stephen Fry reciting In Flanders Fields and Joanna Lumley reading Do Not Stand At My Grave and Weep and I Am With You.
Other readings include Rupert Brooke's sonnet The Soldier, and Staff Sgt Andrew McFarlane's Sunset Vigil - written to commemorate his comrades killed while serving alongside him in Afghanistan.
Royal British Legion president Lt Gen Sir John Kiszely said: "Remembrance Day is a time to remember all those who sacrificed their lives, particularly those from the British armed forces.
"It's a personal time for many as we remember individuals we have known who've been killed.
"I'm delighted by the release of this album, both to raise all-important funds for the Royal British Legion and to convey the sentiment of the nation at this poignant time."