Two Britons held in raids in Securency inquiry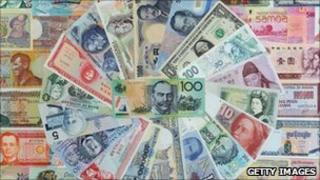 Two people have been arrested in the UK following raids in a Serious Fraud Office (SFO) inquiry into activities at banknote print firm Securency.
More than 80 SFO investigators, along with police, raided nine properties across the country.
Australian Federal Police and Spanish authorities also carried out raids as part of the global investigation.
Officers are investigating how the firm's employees and agents secured contracts for banknote deals.
The SFO was supported by officers from Surrey, Hampshire, Thames Valley, Cumbria and the Metropolitan Police.
They searched eight residential premises and one commercial property in the UK.
In Spain, the authorities executed two search warrants in relation to three British nationals, while in Australia, six search warrants were used in the operation.
A police inquiry began last year amid allegations that millions of Australian dollars had been exchanged in commissions to offshore bank accounts, the Press Association news agency reported.
Securency International is part-owned by the Reserve Bank of Australia.
In a statement, SFO Director Richard Alderman said: "This is an excellent example of how anti-fraud agencies around the world are working together to fight economic crime.
"It requires much painstaking preparation to co-ordinate action like this and I am delighted that our collective hard work has resulted in successful searches in a number of jurisdictions."
Polymer banknotes are printed on a non-porous plastic film, making them more durable than traditional rag-based paper bills.