UK volunteers abroad to get grant, says David Cameron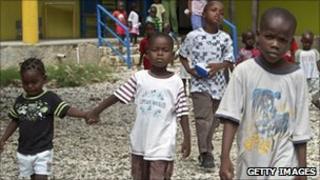 Thousands of young volunteers are to get grants to help some of the world's poorest people abroad, the prime minister has announced.
David Cameron announced the £10m pilot scheme, which he likened to the US Peace Corps, at the Conservative party conference in Birmingham.
International Citizen Service will be means-tested to attract a wide spectrum of men and women aged mainly 18 to 22.
Places will go to 1,000 youngsters and 250 others on its launch next year.
The financial help from the taxpayer will pay for three-month stints helping some of the world's poorest people.
'Vital contribution'
Projects will include tackling HIV/Aids in South Africa, working with orphans in Haiti, helping in schools in Ghana and conservation work in Bangladesh, the Department for International Development (DfID) said.
A spokesperson told the BBC that organisers will seek to identify a large consortium of charities to work with ahead of the launch.
Mr Cameron told party activists the scheme would be an extension of the National Citizen Service (NCS) he has already announced - a UK-based programme for 16-year-olds.
From 2013, NCS graduates will be able to take part in the international version.
Mr Cameron said: "Today I can announce International Citizen Service, to give thousands of our young people, those who otherwise couldn't afford it, the chance to see the world and serve others.
"Last century, America's Peace Corps inspired a generation of young people to act and this century I want International Citizen Service to do the same."
The Peace Corps was founded in 1961 for US graduates to spend a year abroad helping in the social and economic deveopment of other countries.
In the new UK scheme, older people nearing the end of their careers will also be able to join in, lending their skills on short trips or for two-year periods as mentors.
Returning volunteers will then be encouraged to share their experiences with local groups.
Kathy Peach, from development volunteering charity VSO, said she was pleased the government recognised the "vital contribution" volunteering played in tackling poverty.
"We hope that this scheme will enable young British volunteers to work together with young people from developing countries to help build a fairer world," she said.
"To end poverty we need to harness the passion, skills and knowledge of young people all over the world."
Matthew Snell, chairman of the British Volunteer Agencies Liaison Group, said: "Volunteering is a great and well-established British tradition.
"We are pleased the coalition government recognises the value of people from different cultures and backgrounds working together."
Eric Levine, from Restless Development, a youth development agency, said youngsters made up half of the world's population and must play an "essential role" in tackling the most urgent world issues.