Tube driver Amir Ali 'planned violent jihad abroad'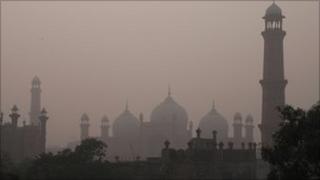 A married father who planned a "violent jihad" in Afghanistan or Pakistan wrote a farewell letter to his family saying Allah came first, a court has heard.
London Underground driver Amir Ali, of Ilford, Essex, bought a plane ticket to Islamabad, jurors were told.
Mr Ali's letter talked of his love for his children, but added he had to go for Allah's sake, prosecutor Duncan Penny told Snaresbrook Crown Court.
The 28-year-old denies one count of preparing for acts of terrorism.
Police found pictures of Mr Ali posing with weapons - including two AK47 rifles and a self-loading pistol - when they searched his home, Mr Penny said.
'Extreme literature'
He told the court: "It is no coincidence that also in his possession were various forms of extreme literature and propaganda advocating the use of violence against the non-believer - or kafir - in the name of Islam."
Mr Ali, who had been driving trains on the Bakerloo Line for five years, paid cash towards a flight from Heathrow to Islamabad, the court heard.
He planned to leave his wife, four-year-old daughter and son, aged three, Mr Penny added.
He said Mr Ali intended to engage in violent jihad, or assist others to do so, either in Pakistan or Afghanistan.
He said the letter Mr Ali wrote to his wife instructed her and his little boy what to do after he had gone.
"In the letter he told her not to be upset or depressed with him for not being there as, he claimed, he always would remember her and his children," Mr Penny told the court.
"He told her to tell the children that he loved them very much but that he had to go for the sake of Allah, because Allah and his prophet Mohammed come first."
The letter also asked for forgiveness from his parents and his brother and sister, the court heard.
Mr Ali made two trips to Pakistan - where his grandparents live - in 2007 and 2008, jurors also heard.
He denies one count of preparing for acts of terrorism between 2006 and 2009. The trial continues.