Newspaper review: Papers reflect on Cameron speech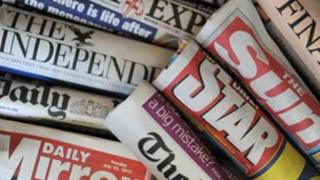 Some of the main themes of David Cameron's Tory conference speech are reflected on the front pages.
The Sun goes for the headline "Your country needs you", which it says evokes memories of Lord Kitchener.
The Daily Express detects echoes of Margaret Thatcher's "no turning back" speech when Mr Cameron insisted that "there is no other reasonable way".
For the Daily Mirror, such language resurrected what it calls the frightening spectre of Mrs Thatcher.
'Assured performance'
The Times believes Mr Cameron's speech was impressively delivered, and impressive as a political argument.
The Guardian feels it was an address shorn of specifics, and skated over a lot of practical issues.
The Daily Telegraph thinks Mr Cameron found it hard to enthuse supporters with his vision of the Big Society, but he was able to rouse them with a sustained attack on Labour's record.
The Daily Mail calls Mr Cameron's performance assured.
Courtroom battle
Could this man save Liverpool asks the Daily Mirror, picturing the football club's prospective new American owner John W Henry puffing on a giant cigar?
The paper says the club was plunged into more turmoil as its current owners tried to block a takeover bid.
The Independent says Tom Hicks and George Gillett are facing mighty odds in holding on to the club.
Their relationship with Liverpool's fans is set to end in a bitter courtroom battle, says the Guardian.
Giant pumpkin
The announcement that people in the early stages of Alzheimer's disease will now be able to get three drugs that can improve their condition is welcomed by the Daily Mail.
The paper calls the decision a reason for celebration.
The Mail also has a photograph of a giant pumpkin that weighs an estimated 118st - heavier than a Fiat 500 car.
The specimen has been grown by twin brothers Ian and Stuart Paton at a nursery in Pennington, Hampshire.