Census will create 43,000 temporary jobs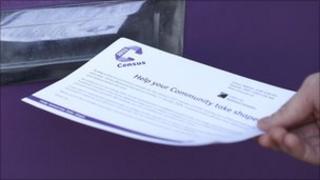 A recruitment campaign has been launched for people to work on the 2011 census across the UK.
In England and Wales 35,000 part and full-time temporary posts will be created with a further 6,000 in Scotland.
Northern Ireland has already begun recruiting 2,000 people for the survey carried out every 10 years.
The information helps the government plan vital services like schools, hospitals, housing and roads.
The census will be carried out on March 27 next year.
Doorstep support
In England and Wales the census is run by the Office for National Statistics.
ONS Census Director Glen Watson said: "The 2011 Census is less than six months away.
"We need to give people help and support to complete and return the census questionnaire and this means recruiting the right people for this important nationwide project."
Roles will include; census coordinators, who will help to manage local teams and census collectors, who will provide help and support on the doorstep.
There will also be special enumerators, who will be responsible for communal establishments including care homes, hotels and student halls of residence.
In Scotland, where the census is run by the General Register Office for Scotland, the recruitment process for 500 census team leaders also began today with plans to recruit a further 5,800 census collectors next month.
The Northern Ireland Statistics and Research Agency began recuruiting some weeks ago. There are vacancies for 1,670 enumerators. The closing date for applications in Northern Ireland is Friday 15 October.
The census will include questions about work, education, national identity, citizenship, ethnic background, second homes, language, health, religion and marital status.
A population census has been carried out in Great Britain every 10 years from 1801 to 2001, except in 1941 when the country was at war.
Most questionnaires will be delivered by post, with five per cent delivered by hand. People will be able to complete and submit their questionnaire online or fill it in on paper and return it by post.