UK blast suspect Tiger Hanif 'wanted revenge'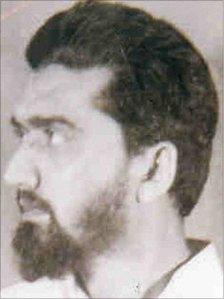 A Muslim arrested in the UK carried out bombings in India 17 years ago to "get revenge" on Hindus, his extradition hearing in London has been told.
Mohammed Hanif Umerji Patel allegedly financed attacks with funds donated to a refugee camp he helped set up, Westminster Magistrates' Court heard.
India is seeking Mr Patel, known as Tiger Hanif, over two blasts in Surat, Gujarat, which killed a girl of eight.
He was traced to a grocery shop in Bolton by UK police.
The court heard he had a prominent role in setting up the camp for Muslims made homeless during religious unrest in Surat in 1992.
Interpol had circulated his photograph and description worldwide.
Prosecutor Clare Montgomery QC said: "The refugee camp had a fund that was set up to collect donations and it was agreed by this defendant and three other witnesses that the fund would be employed to buy weapons."
She said witness statements from a co-conspirator revealed a meeting was called and the men decided to obtain weapons "for revenge".
They planned to throw a live grenade into a busy market on 27 January 1993, but aborted the plot when they saw police, she explained.
They successfully exploded the device at the same site the next day, killing an eight-year-old girl on her way home from school, Ms Montgomery added.
The prosecutor said a second attack took place in April 1993 at a railway station to stop a planned Hindu rally.
"Once again, a live grenade exploded into the crowd - mercifully no-one was killed but there were a series of injuries," she told the hearing.
If extradited, Mr Patel will face allegations of conspiracy to murder and conspiracy to cause an explosion.
He is also accused of helping one of the bombers escape by giving him cash, a weapon and a passport.
More than a dozen people have been jailed for between 10 and 20 years for the blasts.
Related Internet Links
The BBC is not responsible for the content of external sites.