Newspaper review: Papers happy with pensions verdict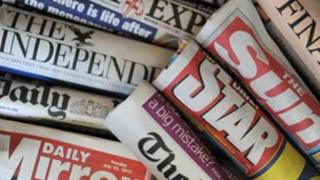 Former Labour minister Lord Hutton receives praise in many papers for his review of public sector pensions.
As far as the Financial Times is concerned his contribution has been "thoughtful and substantial".
The Daily Mirror believes Lord Hutton has nailed the lie that millions of public servants have gold-plated deals.
The Sun condemns unions for threatening strike action if pensions are reformed, while the Daily Express says they will have to accept the need for change.
'Common sense''
The Independent and Daily Mail agree the police must learn lessons from the death of barrister Mark Saunders, who was shot by armed officers.
The Independent points to problems with the command structure at the siege. The Daily Express believes the verdict that he was shot lawfully is "common sense".
The Times headline is "Jury highlights failings of police in siege killing".
But the Guardian says police feel they have been treated unfairly by the media by failing to convey the dangers faced.
Politically motivated
The Daily Telegraph says the Royal Navy is preparing to make drastic reductions to its fleet to save two planned aircraft carriers from defence cuts.
The government says no final decisions have yet been taken on the future of Britain's defence capabilities.
In its lead, the Guardian carries claims that a terror alert issued by the US about a plot to attack Europe was politically motivated.
The US rejects the claim as "misguided" and "irresponsible".
Dependency cycle
Culture secretary Jeremy Hunt's remarks on the need for families on benefits to take responsibility for the number of children they have draw reaction.
"We won't pay for big families" is the Daily Express headline.
The Daily Mail describes his words as "ill-chosen" but says we should be glad we have ministers who seem determined to tackle the cycle of dependency.
The Daily Mirror condemns Mr Hunt for the comments, accusing the government of withdrawing important benefits.