Newspaper review: Papers happy with pensions verdict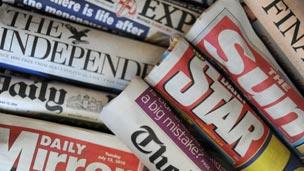 Former Labour minister Lord Hutton receives praise in many papers for his review of public sector pensions.
The government says no final decisions have yet been taken on the future of Britain's defence capabilities.
The US rejects the claim as "misguided" and "irresponsible".
Culture secretary Jeremy Hunt's remarks on the need for families on benefits to take responsibility for the number of children they have draw reaction.
Related Internet Links
The BBC is not responsible for the content of external sites.