Papers digest Alan Johnson's shadow cabinet appointment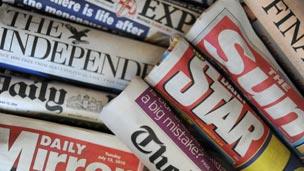 Ed Miliband's unexpected appointment of Alan Johnson as shadow chancellor is discussed in the day's newspapers.
There is general surprise that Mr Johnson was chosen ahead of Ed Balls and his wife Yvette Cooper.
It suggests he is concerned that the speed and size of the fiscal cuts could bring the economy to a shuddering halt.
This is the creation of money to pump into the domestic economy.
This is done to underline its point that he could not collect his award, because he is in a Chinese jail.
Several papers are taken with the unusual date falling this weekend.
Sunday is the 10th day, of the 10th month, of the 10th year and as such is regarded as one of the luckiest of the century, apparently.
Related Internet Links
The BBC is not responsible for the content of external sites.