What could £113m lottery win buy society?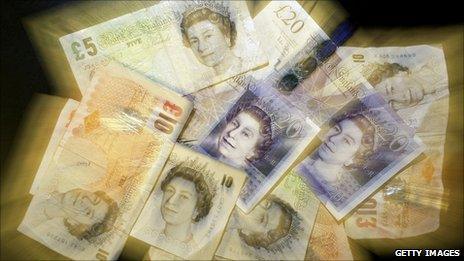 It may not put you in the same league as a Bill Gates or Warren Buffett, but winning £113m on the Euromillions lottery presents the philanthropically-minded with a real opportunity.
You could save a theatre from closure, relieve hardship and suffering, or accelerate scientific research. We asked representatives from a selection of UK sectors what they would do.
What better way to spend you money than on relieving hardship and suffering in the world?
Oxfam policy adviser Max Lawson says just half the winnings would buy HIV treatment for 180,000 people for a whole year in places like Zambia and Malawi.
He says the biggest shortage in countries like those are for trained health workers and teachers. The £113m jackpot would hire you 90,000 new nurses for a year, he explains.
Millions of people receive treatment for HIV around the world, but millions more need it, he adds.
Insecticide-laced bed nets are the easiest and most effective way to stop people getting malaria, with cases dropping by two-thirds when they were handed out in Rwanda, he adds. The lottery win would buy you 45 million.
Digging wells and improving water and sanitation would also be money well spent, he says.
With proposed UK funding cuts of up to 25%, some of Britain's top artists have been campaigning to save an arts culture they say is the envy of the world.
The industry claims that for every £1 invested in the arts, you get £2 back, making it a sound investment.
The Art Fund, an independent charity which fundraises and donates to museums and galleries to buy and show art, says £113m could raise its impact and reach.
"We would buy specific works at risk of being lost, like Brueghel's The Procession to Calvary, for which we are currently fundraising," a spokeswoman says.
Some of the cash would go on touring great collections to every corner of the UK, and some on training curators to bring the stories within art to life, she adds.
Andrew Nairne, a director at the Arts Council England, says the money would be best spent on a talent fund for artists and creative leaders, and a touring fund to make work accessible.
Fanatics with bruised national pride who dream of World Cup glory or seeing a home-grown tennis player triumph at Wimbledon, take note.
An investment of £113m, well spent, could just be the difference between future success or failure.
The amount would comfortably pay for the entire annual budget of UK Sport, the body responsible for investing public funds in high performance sport.
And if invested in the UK's four devolved sports councils - for England, Scotland, Northern Ireland and Wales - could make a significant impact at grassroots level.
A spokesman for Sport England, the largest of the four, says £113m would almost cover its annual cost of developing 46 sports in England, from football, cricket, rugby and tennis down to rounders, triathlon and disability sports.
That would pay for talent development and projects to get people playing, such as "taster" sessions, new programmes and leagues.
"UK Sport funds the Olympics and Paralympics, but they've got to get there in the first place," he says.
"In netball we set up a super league, because the jump from county to international was too massive.
"We funded a national league, and now we are one of top four netball countries in the world."
It is impossible to predict where the next really big scientific breakthrough will come from, but shrewd investment could make you part of it and secure a lasting legacy.
Professor of neuroscience at Oxford University Colin Blakemore says science is an obvious, rich source of investment.
"Studies all over the world show that investment generates a huge pay back of between 15 and 20 times the original sum. So £113m could make £2bn," he says.
Prof Blakemore, a former head of the Medical Research Council (MRC) says the scientific community itself should collectively identify the best prospects for the next big discovery.
"It's important to be willing to take risks, the really important breakthroughs came from risky research," he says.
Antibody drugs came from "really blue sky" research in Cambridge and magnetic resonance imaging (MRI) was developed at the University of Nottingham using MRC funds, he adds.
With an annual UK deficit of some £109bn, and punishing cuts looming to narrow the gap, there could hardly be a better time to give a bit back.
But the Work Foundation, an independent body of economic analysts and experts, advises would-be benefactors to invest their cash independently of the government.
Associate director Ian Brinkley says spending on scientific research and innovation in universities could leave a long-term and permanent legacy.
He says: "The best thing would be to endow some institutions and keep at arms length from the government. If you handed it to the Treasury, they would just use it to plug the deficit.
"A good endowment on cutting edge research really can make a difference."
An example might be green technologies used in advanced manufacturing in the Midlands, he says.
He also says you could invest in high-growth firms offering high-tech services, because they typically create the vast bulk of jobs in the UK.
Rather than setting up a new institution to do that, he says you would be better off using one of the many already in existence. Lots are ineffective, so find one that looks successful, he advises.
Related Internet Links
The BBC is not responsible for the content of external sites.