Miliband 'needs cuts strategy', Alastair Campbell says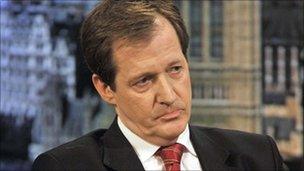 Labour leader Ed Miliband needs a "proper economic narrative" to credibly challenge the coalition government over the coming cuts, Tony Blair's former spin doctor has said.
Alastair Campbell said the Labour Party needed a "strategy for the future" and should not just say it opposed cuts.
Speaking at the Cheltenham Literature Festival, he also said he believed Ed Miliband could win the next election.
Appointing Alan Johnson as shadow chancellor was a "wise move", he added.
Whitehall departments - with the exception of Health and International Development, whose budgets are protected - are facing cuts of up to 25% over four years in the £83bn cuts programme, due to be detailed in the comprehensive spending review on 20 October.
Mr Campbell said although he supported elder brother David Miliband for the Labour leadership, Ed Miliband had already made a good start, but needed to think about his strategy.
"He's only just been elected, but I think when the cuts do start to kick in - providing we have got a proper economic narrative - [it] isn't just about saying 'we're against the cuts'.
"It is actually about how you build growth and how you develop a strategy for the future.
"We heard a lot about lessons in the leadership election. Yes, learn the lessons of the things that went wrong but for heaven's sake learn the lessons of the things that went right as well."
Mr Campbell said a lot would depend on what happened to the coalition and the "general sense of direction" Ed Miliband gave the Labour Party.
But he said the Labour Leader had already shown he had the "steel" and qualities to win.
"Can Ed win the next election? Yes he can.
"People didn't see that coming, Alan Johnson goes in there, a wise move as shadow chancellor," he said.
The government's former director of communications said he would not be standing at the sidelines saying Labour "should be doing this, they should be doing that".
But he said it was important for the party to "never underestimate [its] opponents".
He added: "I think what the coalition has done for David Cameron is given him a strategic purpose, which he didn't have before
"He's now got one - let's make the coalition work. It plays well to his psychology, it plays well to Clegg`s. It plays quite well to both of their strategies.
"I think that once the cuts really start to begin to bite I am not sure he'll find it so straight forward."