Sunday papers cover potential spending cuts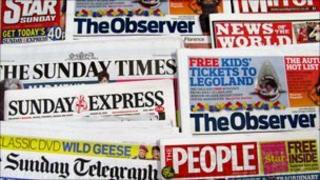 The Sunday papers continue to discuss potential cuts to public spending by the coalition government.
According to the Sunday Telegraph, billions of pounds of extra cuts are to be unveiled this month.
The paper says Cold Weather Payments, Winter Fuel Allowance and Incapacity Benefit, or its successor, Employment and Support Allowance, face being cut
The Sunday Mirror says Winter Fuel Allowance will be means tested and Cold Weather Payments "slashed".
Green blues
The News of the World has an altogether different take on the benefit cuts.
It says more than 65,000 ex-pats pocketed the £250 Winter Fuel Allowance during the last cold snap, even though they now live in sunny climes.
And the Sunday Express suggests that some of the proposed cutbacks may be "slashed in half".
The UK's defence budget, the paper suggests, may be cut by just 5% to 10%, instead of the threatened figures of 10% to 20%.
"Green fatigue" has hit the campaign to get people to reduce their carbon footprint, according to the Independent on Sunday.
The researchers, Mintel, have apparently found that Britons are less environmentally conscious than they were five years ago.
Bomb alert
A healthy baby in the United States has been born from an embryo frozen for almost 20 years, the Sunday Times says.
It says women may now be able to put off a family until later on in life.
The Express leads with a claim that there is an unexploded wartime bomb under Britain's £500m Olympic Stadium.
The paper says the deadly device is just below the surface of the 80,000 seat arena where the Queen and other world leaders will gather in 2012.
A picture of what could be the youngest person ever photographed smiling appears in the Times.
The image, captured by a London doctor, shows what appears to be a broad grin on the face of a 17-week old foetus.