Euromillions £113m prize not yet claimed by UK winner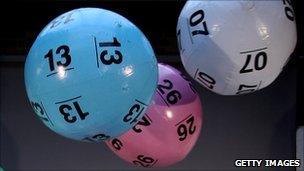 The UK winner of Friday's £113m (129m euros) Euromillions jackpot has not yet come forward to claim the money.
The winner - or winners if the ticket belongs to a syndicate - could spend the entire weekend unaware how their lives have changed, Camelot said.
If the ticket is held by one person, they will immediately become the 589th wealthiest person in Britain, according to the Sunday Times Rich List 2010.
The jackpot win represents the biggest single lottery success in UK history.
Friday's Euromillions numbers were 9, 30, 35, 39, 46, with lucky stars 6 and 8.
Camelot will not reveal where the ticket was bought; it will do that after about two weeks as a reminder if no-one has yet come forward.
The previous record lottery win in the UK was £84.4m, won on Euromillions in May by an anonymous ticket-holder.
The latest winner's wealth will eclipse that of the likes of pop stars Barry and Robin Gibb of the Bee Gees, who are said to be worth £110m, Phil Collins, who has a fortune of £108m, Rod Stewart, who has £105m, and David Bowie, who has an estimated £100m to his name.
About 2,400 lottery millionaires have been created in the UK since the National Lottery launched in 1994.
Nigel Page and Justine Laycock, from Barnsley, Gloucestershire, set a then- for record for UK lottery wins in February after winning £56m on Euromillions.
They said: "It is an amazing amount of money and we wish them all the very best with their prize. We would advise them to take their time and the advice on offer and stay grounded.
"For us, so much has happened in the last seven months but we now feel very settled.
"We live in a beautiful home, have had some amazing holidays and have been able to thank our family and friends for their support."
Angela Kelly, who won £35.4m in August 2007, said: "A Euromillions win not only means you can change your own life but also the lives of the people closest to you, and it is that which particularly brings me a great deal of joy.
"All the best to the new winner, keep your feet on the ground and you will enjoy this unbelievable experience."
Tickets for Euromillions are sold in nine countries - the UK, France, Spain, Austria, Belgium, Luxembourg, the Irish Republic, Portugal and Switzerland - with ticket-holders in all those countries trying to win a share of the same jackpot each week.
Camelot is the operator for the competition in the UK.
Related Internet Links
The BBC is not responsible for the content of external sites.