Chelsea gunman Mark Saunders posed no risk, says mother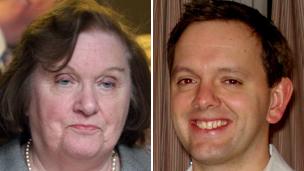 The mother of Mark Saunders, the barrister killed by police marksmen in a five-hour stand-off, has insisted he posed no danger to the public.
She said her only son, who had been drinking heavily, should have been allowed to speak to his wife before the siege at their London flat escalated.
Police said it was not appropriate. An inquest heard he was lawfully killed.
Mrs Saunders, who was present throughout the three-week inquest hearing which ended on Thursday, said her son's death had been a "tragic waste".
The siege began after the 32-year-old lawyer fired shots from his £2m home in Markham Square, Chelsea, in May 2008.
The flat was soon surrounded by officers carrying more than 100 guns. Mr Saunders was killed by shots to the head, chest and liver.
Mrs Saunders told the paper: "Mark was not in a proper aiming position when he was killed.
"He was facing a line of unoccupied houses. At that stage it was under control; he was not a risk to the public. At the beginning [yes] but by the time they killed him he was not posing a danger.
"It should have been managed better. It should never have got to that point [where he was shot]."
The court was told Mr Saunders had asked to speak to his wife, Elizabeth Saunders, during the siege, but she told the jury that police told her to turn her phone off.
Rosemary Saunders said this had been a mistake.
"You would think in the early stages they had nothing to lose by allowing Mark to talk to Liz," she said.
The Metropolitan Police said it was considering the findings of the jury and the coroners's comments about allowing Mr Saunders to speak to his wife.
A police spokesman said: "Negotiators will consider the most appropriate action and tactics to take. As has been explained at court there were a number of reasons why it was not deemed appropriate for Mrs Saunders to act as a third party negotiator.
"An independent expert stated at court that using family members in negotiations is always high risk and that the negotiations had been going well."
It also emerged during the inquest that Mr Saunders, an Oxford graduate and impressive lawyer, had an alcohol problem and had used cocaine in the six months before his death.
His mother said: "We knew he had issues but I hadn't realised the alcohol problem was quite the problem it was. In society today it's OK to drink. Therefore you don't notice it. These things creep up on you."
Mrs Saunders said she still really missed her son and that she and her husband, Rodney, had been left tired by the ordeal of the inquest.
Related Internet Links
The BBC is not responsible for the content of external sites.