Lord Mandelson urges Miliband to keep New Labour legacy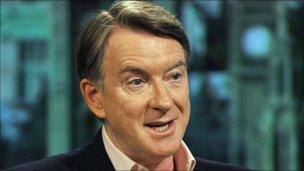 Lord Mandelson has warned Labour leader Ed Miliband not to reject the legacy of New Labour or he will not win the next general election.
Mr Miliband must understand the importance of uniting traditional working class Labour voters with the aspirational middle classes, he said.
And Labour had to act like the "party of power" rather than the party of opportunism and protest.
He said voters would soon be looking for an alternative to the coalition.
Many people who supported the Conservatives in the general election for the first time in more than a decade will change their minds when the coalition's cuts take hold, the former business secretary said.
After 20 October when the cuts are announced, middle class voters who have become detached from the Conservatives "will be listening to what Labour says," Lord Mandelson said.
"If Labour doesn't offer suitable, realistic and tough answers to the problems of the deficit and our national finances then the public are going to say 'we don't like what the Conservatives are doing but the Labour Party does not have any answers either'.
"That is about being a party of power rather than a party of protest. A party of power isn't one that cynically represents the trade unions or the shrinking working class vote, neither is it a party that says simply what people want to hear.
"The party of power, in contrast, is one that addresses tough decisions and choices right across the policy range.
"And if the Labour Party isn't doing that then it isn't going to receive the support that it needs to do win the next election. That's the lesson of New Labour."
Lord Mandelson, who was speaking on Saturday night at the Cheltenham Literary Festival, warned the new party leader of the dangers of ditching the New Labour brand.
"Advance it, turn it around, let it evolve, let it address new challenges in our country. That's what I would do if I were Ed Miliband," Lord Mandelson said.
"I would not be saying that all those Labour Party members and all those Labour voters who supported the party through three successive general elections that what they were voting for - New Labour - is nothing.
"It's an insult to those people that worked for the Labour Party, who voted for the Labour Party, to say to them that they voted for something that was fraudulent, useless or didn't deliver.
"Restyle it, remould it, let it address new challenges, let it build and take a new direction that the new generation wants.
"But you don't have to do that by defining it against what your own party of government has done over the last 20 years."