Britain's 16 Air Assault Brigade takes over in Helmand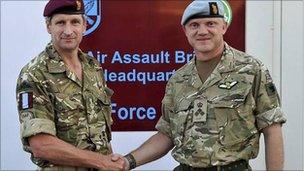 A fresh brigade of British troops has taken over in Afghanistan's Helmand province, the Ministry of Defence has announced.
16 Air Assault Brigade is taking over from 4th Mechanised Brigade, which has spent six months in the region.
The force will begin training Afghan soldiers and police so they can gradually take over security duties from the British, says the MoD.
Prime Minister David Cameron has said he wants British troops out by 2015.
The 4th Mechanised Brigade suffered 63 fatalities, including six Danes and one Estonian who were working with them, during their six months in Helmand.
On Saturday, following a handover meal, the governor of Helmand province Gulab Mangal paid tribute to the British soldiers who had been killed in recent operations.
He said: "I am deeply saddened when I hear of the loss of soldiers and I share the pain of families who have lost their beloved ones."
Brigadier Richard Felton OBE, Commander 4th Mechanized Brigade, spoke of the "exceptional" partnership and friendship with their Afghan counterparts.
"The hard work and effort that they have put into improving the lives of the people of Helmand has been outstanding."
16 Air Assault Brigade will begin the process of training the Afghan army and police to a level which will mean they can take over security duties from the British on a gradual basis, according to the MoD.
Related Internet Links
The BBC is not responsible for the content of external sites.