Newspaper review: Papers predict tuition fees clash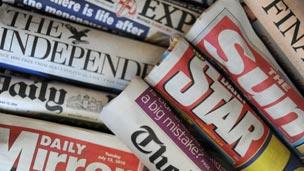 Lord Browne's proposals on the funding of universities in England - including the removal of the cap on tuition fees - draw much attention in the papers.
But it is more because, as the Financial Times puts it, they are likely to spark a clash between the coalition parties.
The Times says it understands that the prime minister has appealed to military chiefs not to cut the Territorial Army as part of plans to save money.
The paper itself sets out a case for the TA to be spared.
A report by the Equality and Human Rights Commission is widely covered.
For the Times, the most interesting part is the conclusion that opportunities remain "permanently closed" for many minority groups.
It says the officers had useless radios, not enough ammunition - and now the dropping of charges against the Iraqis is, according to the paper's headline, the "Final betrayal of the Red Caps".
But it "cannot judge until we know exactly what went wrong on the ground".
Related Internet Links
The BBC is not responsible for the content of external sites.