Free 'public protection' inmates, say prison governors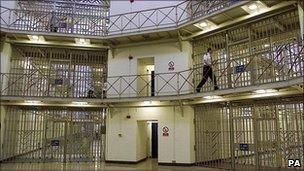 Prison governors have called for the immediate release of almost 2,500 prisoners who were jailed indefinitely for the public's protection (IPP).
Ministry of Justice (MoJ) figures show there were 2,468 IPP prisoners in this category as of 19 January this year.
The Prison Governors Association says the sentences are unjust and all but those still presenting a high risk of harm to the public should be freed.
The MoJ said it was assessing its sentencing and rehabilitation policy.
Prison Governors' Association president Eoin McLennan-Murray says his members were criticised last year for their claims over the ineffectiveness of short-term prison sentences - claims which he says now form the focus of Justice Secretary Ken Clarke's rehabilitation policies.
Referring back to that criticism, Mr McLennan-Murray said: "This year we will be debating an issue of fairness relating to sentences at the other end of the sentencing scale.
"And, if passed, calling on the government to urgently review those cases with a view to immediate release, unless there is clear evidence that they still present an unacceptably high risk of harm to the public.
"It is possible that such a resolution may excite some commentators, like last year we may be criticised, but we should not be deterred from speaking out when we see blatant injustice. In fact, as professional governors it should be our duty."
The Prison Governors Association says it is unjust to keep prisoners behind bars once they have served their minimum terms.
Of those IPP prisoners who had passed their minimum sentence, some 276 of these were still behind bars more than two years later as of 5 February this year.
Mr McLennan-Murray also predicts prison closures should ministers be successful in cutting the prison population, which was at a record high of 85,495 in England and Wales at the start of October.
An MoJ spokesman said: "We are conducting a full assessment of sentencing and rehabilitation policy to ensure it is effective in deterring crime, protecting the public, punishing offenders and cutting re-offending.
"We will publish a Green Paper for consultation later in the autumn."
Related Internet Links
The BBC is not responsible for the content of external sites.