Newspaper review: Chile mine rescue grabs attention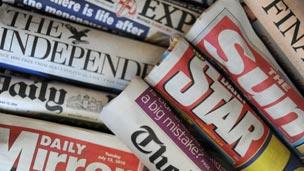 As the papers were being printed, the impending rescue of the first of the 33 miners trapped underground in Chile for weeks was grabbing attention.
Air Chief Marshal Sir Stephen Dalton is said to have warned David Cameron that cutting combat jets could leave Britain unable to defend its air space, let alone conduct foreign campaigns.
The Sun reports that a meeting of the National Security Council broke up without agreement - leaving Mr Cameron 48 hours to broker a deal between the chancellor and the defence secretary.
The paper raises the prospect of tuition fees not only doubling from the autumn of 2012 - but even going as high as £12,00 a year for top universities.
The Financial Times reports that a group of veteran reformers in China's Communist party have demanded that Beijing dismantle its elaborate censorship apparatus.
According to the FT, their open letter was published on Sina.com, China's largest news website - but was removed a few hours later by the authorities.
The Times reports that pregnant women in New Zealand have been warned off visiting an exhibition of indigenous artefacts at the country's national museum for fear of angry Maori spirits.
Related Internet Links
The BBC is not responsible for the content of external sites.