History of the World 100th object named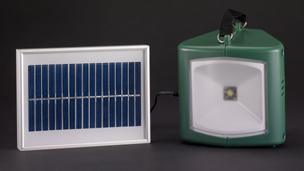 A solar-powered lamp and charger has become the final object in Radio 4's History of the World in 100 objects.
The lamp was chosen for what it says about life in 2010 and because of its ability to bring electricity to those who have never had it before.
A mobile phone was also revealed alongside the lamp.
Neil MacGregor, director of the British Museum, who presented the radio series, said the items represented technology, which was "changing the world now".
Solar power had given a whole range of people power to control their lives and their environment, he said.
It has allowed millions of people to meet and study outside daylight hours in developing countries - and was less dangerous than kerosene lamps.
It could also point the way towards a more sustainable source of power for the future.
Including the mobile phone was "a bit of cheat", he said, but the charger "also gave the mobile phone to the world".
"These mobile phones are changing the world - giving the poor in the world access to money.
"It is the credit card in large parts of Africa and South Asia, it can be bought in any market in Africa," he said.
The shortlist of five items included Didier Drogba's football shirt - because of the global and unifying nature of sport - and a pestle and mortar from Bangladesh to signify the story of migration and cultural identity through food.
Clothing designed to be worn in Antarctica was also considered to represent the last place on earth people have settled.
Members of the public were also asked to nominate the objects they considered symbolic of 2010.
Marilyn Reynolds, from Newbury, Berkshire, suggested the credit card.
"It says it all: living beyond our means, personally, nationally and globally," she told the BBC.
Richard Whiting, from Leicester, argued the silicon chip had "transformed the world, by computers and all other devices relying on this component."
Other suggestions included the plastic bag, television, contraceptive pill and iPad.
The 100th object brings to a close Radio 4's History of the World series, which has seen 100 programmes tell the history of humanity through 100 objects from the British Museum's collection.
The first object - which is also the oldest object made by humans in the British Museum - was a two-million-year-old chopping tool made from stone which was found in the Olduvai Gorge in Tanzania.
Other items include the Rosetta Stone, a miniature gold llama figurine and an early Victorian tea set.
Related Internet Links
The BBC is not responsible for the content of external sites.