Newspaper review: Chile rescue celebrated by all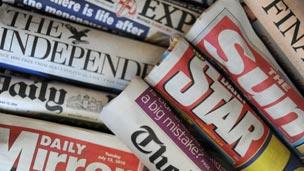 The rescue of the Chilean miners is seen on all sides as a triumph that everyone can celebrate.
"In these secular times," says the Daily Telegraph, "we are reluctant to talk of miracles." But not today.
The appearance of the men from underground seemed to the Times a "scene of almost biblical rebirth".
Ed Miliband wins praise for his first appearance as Labour leader at Prime Minister's Questions.
The Mail and the Mirror both think that pensioners may receive less help with their heating bills in lengthy periods of cold weather.
It says her staff are devastated. "Oh glum all ye faithful" is the headline.
Related Internet Links
The BBC is not responsible for the content of external sites.