Newspaper review: Chile rescue celebrated by all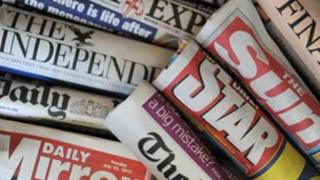 The rescue of the Chilean miners is seen on all sides as a triumph that everyone can celebrate.
"In these secular times," says the Daily Telegraph, "we are reluctant to talk of miracles." But not today.
The appearance of the men from underground seemed to the Times a "scene of almost biblical rebirth".
"Salvation!" is the headline in the Daily Mirror. To the Daily Mail it was like the moment that Man first set foot on the Moon.
To the Guardian, the appearance of each survivor resembled the contestants leaving the Big Brother house - but with this difference: "You care. This is incredibly moving."
Rock stars
On all sides the miners are pictured with their arms aloft - like rock stars. And so the Sun calls them "the freed hot Chile fellas."
The Independent thinks that Chile has emerged as "a nation... transformed" - though the paper thinks we should not forget that these miners were betrayed by their employers and government.
Ed Miliband wins praise for his first appearance as Labour leader at Prime Minister's Questions.
Quentin Letts of the Daily Mail says he "did fine". "First blood to the Kid," says Matthew Engel of the Financial Times.
Simon Hoggart of the Guardian says "he wasn't bad at all". The Daily Mirror thinks he enjoyed a conclusive win over David Cameron.
Spending cuts
The Guardian says a decision to protect spending on counter-terrorism will mean deeper cuts in other policing.
The Daily Telegraph says changes to tax relief will hit the pensions of more than half a million people - especially professionals and the self-employed.
The Mail and the Mirror both think that pensioners may receive less help with their heating bills in lengthy periods of cold weather.
And the Sun reports that the Queen will not be holding a Christmas party at Buckingham Palace this year.
It says her staff are devastated. "Oh glum all ye faithful" is the headline.