Newspaper review: UK defence cuts worry papers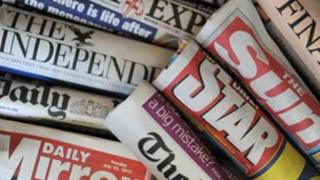 Several papers cover the concern of US Secretary of State Hillary Clinton over planned cuts in the armed forces.
The Telegraph says the unusual public intervention by the Obama administration will heighten tension in Whitehall about the scale of the cuts.
In the Times, Defence Secretary Liam Fox insists that Britain will have enough capabilities for the future.
The Financial Times says defence is becoming the most fractious and difficult part of the spending review.
Quango cuts
In the words of the FT, the news that almost 200 quangos are to be cut was more like a slow burn than a bonfire.
For the Guardian, the changes are nothing more than "an expensive exercise in rebranding."
The Daily Telegraph regrets that the Cabinet Office Minister, Francis Maude, did not go far enough.
The Independent reports that the Cabinet Office website crashed within minutes of the announcement as worried civil servants clicked on it.
Football club
The latest twists and turns in the battle for control of Liverpool Football Club are charted in detail on the sports pages.
The Times speaks of insults being unleashed on both sides of the Atlantic during an another extraordinary and compelling day of legal drama.
According to the Daily Mail, Liverpool's owners Tom Hicks and George Gillett found themselves on the receiving end of humiliating condemnation.
It came when the High Court in London dismissed a Texas injunction.
Most papers have been sifting through a day in the life of Greater Manchester Police as revealed by the force's use of the social networking site, Twitter.
The Daily Mirror is not alone in headlining the story "Bobbies on the tweet." The paper says the hundreds of incidents recorded ranged from the grave and dramatic to the hilarious.
Chile's rescued miners continue to attract attention, with the Sun calling them the rock stars. The Telegraph says UK supermarkets reported big increases of - heavily discounted - Chilean wine.