Royal Navy arrests drug smugglers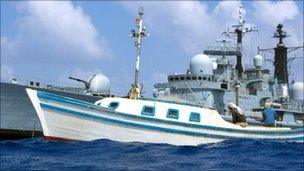 A gang of drug smugglers with cocaine worth £16.8m have been caught by a Royal Navy warship in the Caribbean.
HMS Manchester, a 5,200-tonne destroyer, followed the small fishing vessel used by drug traffickers during a night operation.
The warship drew up only 150 yards from them and launched its sea boats.
Navy personnel managed to intercept some of the estimated 240kg (530lb) of cocaine which the three-man crew jettisoned overboard.
Eight bales of the drug were thrown overboard, but the Navy boat crews recovered two, each weighing 30kg (66lbs), to be used as evidence.
A Royal Navy spokesman said: "A softly-softly approach caught a trio of drug traffickers napping as their fishing vessel was stalked through the Caribbean night by the Royal Navy warship HMS Manchester.
"The surprised three-man crew of the vessel suddenly realised the game was up as the 5,200-tonne Type 42 destroyer, with her sea boats launched, loomed up out of the darkness just 150 metres off the stern of the smugglers' craft.
The operation took place in the Colombian Basin, an area of the Caribbean between Colombia and Panama.
In September last year, the Royal Navy seized its biggest ever haul of cocaine, with an estimated street value of £240m ($380m), off the coast of Colombia.
HMS Manchester left its Portsmouth base for its current patrol mission in May this year and is due to return home in time for Christmas.
Related Internet Links
The BBC is not responsible for the content of external sites.