Deadly horse disease swamp fever returns to UK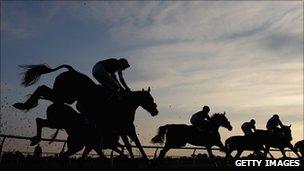 The world of horse racing and the 2012 Olympics are on alert following the return to the UK of "swamp fever".
The deadly equine disease has been detected in four horses this year, all of them imported.
One expert told the BBC Radio 5 live that the movement of bloodstock across the EU was a "ticking time bomb".
Swamp fever - officially known as Equine Infectious Anaemia (EIA) - is rife in parts of Europe but was last seen in the UK in 1976.
The outbreak has disturbing echoes of the early stages of the 2001 Foot and Mouth epidemic, which claimed the lives of 10 million sheep and cattle and cost the country an estimated £8bn.
But the UK's Chief Veterinary Officer, Nigel Gibbens, told 5 live Investigates that the cases identified had been imported, and there was no evidence that the disease had spread to other horses in the UK.
The condition is transmitted by blood-sucking insects but can also be passed on by vets using dirty syringes and other infected medical equipment.
The UK's multi-million pound racing industry has not yet been affected, but trainers are now on full alert following outbreaks last month in Northumberland and Devon.
There is also a fear that if the disease spreads, it could wipe out equestrian events at the London Olympics in 2012.
Roly Owers, chief executive of the World Horse Welfare charity, said: "The Olympics are a huge opportunity for us. There are some warning bells here that we do need to heed.
"If swamp fever's getting in, we need to be mindful of what else could get in. The implications of these cases are very serious."
The two recent cases of swamp fever followed an outbreak in Wiltshire in January, with anecdotal evidence suggesting that all the affected horses originated in Romania, before being exported to Britain via other EU countries.
Mr Owers warned: "With more and more horses moving across Europe, including into and through the UK, we are facing an increasing threat from serious diseases.
"If swamp fever spreads across the UK it could have catastrophic effects on our horse population," he added. "Whether it's a child's pony or a Cheltenham Gold Cup winner, disease does not discriminate."
Some critics have complained that a stricter testing regime should have been put in place in 2007 when Romania joined the EU, given that the country is regarded as a swamp fever hotspot.
Tim Morris, director of equine science and welfare at the British Horseracing Authority, said the return of the virus was "an inevitable consequence of the policy on free movement. Risk assessments weren't robust enough."
Following the Wiltshire outbreak earlier this year, the European Commission sanctioned much tighter control of horses exported from Romania.
The Department for the Environment, Food, and Rural Affairs (Defra) points out that, as a result, it is much easier for importing countries to check for symptoms of the disease.
Animals are also now subjected to two tests for swamp fever before being allowed to leave Romania.
Mr Gibbens downplayed the risk of a full-blown swamp fever epidemic in the UK, saying: "We, at this stage, don't have any evidence that it is actually circulating in this country, although we're not complacent about that and we want to continue to look for it."
But there are concerns that there may be further cases yet to be detected in horses imported to the UK before this summer.
Former Chief Veterinary Officer, Keith Meldrum - who was in the post at the time of the BSE crisis - is fearful that more cases are inevitable.
"We may well have other cases - it would not surprise me if we were to find other cases of EIA in animals imported from overseas that have not so far been identified."
It is a concern echoed by David Ashby, a bloodstock underwriter with the insurance company Amlin, who cautioned: "Horses are already spread throughout Europe from Romania and other countries, horses that have probably not been tested.
"The issues of movement into this country of animals from the EU is a ticking bomb with regard to a disease outbreak."
There are also calls for increased compensation for owners of horses who contract swamp fever and have to be destroyed.
Mr Meldrum said: "If a case of EIA is confirmed in a horse in the UK, that animal will be compulsorily slaughtered. And the owner gets compensation of only £1. That is no incentive for the owner to report the case".
An outbreak of the disease in Ireland in 2006 is estimated to have cost the government there more than a million euros to contain and led to restrictions on the movement of hundreds of horses.
As Mr Morris of the British Horseracing Authority observed: "Disease is probably the most serious threat to the equine sector and its business components - whether racing, top flight equestrianism, livery yards or riding schools.
"The smallest pony can bring down the biggest racing yard."
You can also listen again on the BBC iPlayer or by downloading the 5 live Investigates podcast.
Related Internet Links
The BBC is not responsible for the content of external sites.