Anglican congregation plans to convert to Catholicism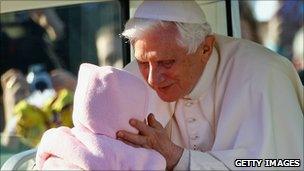 An Anglican congregation in Kent has become the first to take up the Pope's offer to leave the Church of England to convert to Catholicism.
The Pope has created a special enclave in the Roman Catholic Church for Anglicans unhappy with their church's decision to let women become bishops.
Last month the church council of St Peter's in Folkestone voted to take the first formal steps towards converting.
It comes as traditionalists performed well at the CofE synod elections.
Last October, Pope Benedict made his controversial offer of a place in the Roman Catholic Church for Anglicans that would let them retain some of their practices and traditions.
The BBC's religious affairs correspondent Robert Piggott said the invitation was expected to be of most interest to traditionalist clergy who were unwilling to serve under women bishops.
However, the initiative at St Peter's was taken by lay people, with the intention of converting as a group, our correspondent added.
It is thought unlikely they would be allowed to take their church with them however.
At a conference of Forward in Faith, a group representing traditionalist Catholic Anglicans, its chairman the Bishop of Fulham John Broadhurst announced his intention to convert to Catholicism.
Bishop Broadhurst is currently the "flying bishop" charged with looking after traditionalist parishes opposed to women priests and bishops in the dioceses of London, Southwark and Rochester.
The moves by St Peter's and the Bishop of Fulham come despite a stronger than expected showing by traditionalists in elections to the Church of England's General Synod.
Their success means, in future, they may try to block current legislation to introduce women bishops.
Traditionalists are claiming they have more seats on the synod, and could insist on the provision of male alternative bishops on terms acceptable to them.
They say only a handful of additional votes are needed to make sure future women bishops are bound by legally enforceable rules governing how they deal with clergy and parishes unwilling to serve under them.
Liberal groups, who have acknowledged privately that they probably have not made the electoral gains they were looking for, claim such rules would make women second class bishops.
In deciding that women bishops should be allowed, the synod gave minimal concessions to traditionalist Anglicans who opposed the move.
They had sought to be in the care of a male alternative bishop on terms acceptable to them.
But the synod decided women bishops should be able to decide the identity and functions of any such bishop.
Members of the last General Synod decided in July that there was no need for further delay to the progress of a draft law allowing women to be made bishops.
The law must receive approval from a majority of the Church's 44 diocesan synods, before returning to the General Synod.
If it does win two-thirds majorities in the three houses - bishops, clergy and lay people - it must then get parliamentary approval and Royal Assent.
Related Internet Links
The BBC is not responsible for the content of external sites.