Newspaper review: Papers weigh up battle over defence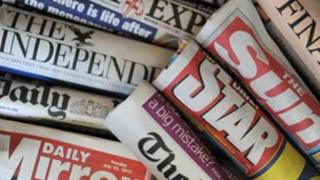 The Daily Telegraph talks of a "power struggle".
It reports that the Treasury tried to force the Ministry of Defence to make cuts, deeper than those which had been previously agreed.
Military chiefs, the paper says, have described the move as a "betrayal."
The Sun believes Harrier jump jets could be axed as part of the process, a decision described as "extraordinary" by the former First Sea Lord, Admiral Sir Jonathon Band.
National security
Speaking to the Guardian, an MoD source tears into the Treasury. "They might like to remember that we are trying to fight a war," the source says.
For its part, the Daily Mail calls for cuts in overseas aid, not defence.
The paper argues that while there might be "huge scope for savings at the MoD", the nation's security should not be put at risk.
The Times says the defence budget looked like the last significant area for spending cuts to be finalised.
School funding
The announcement by Nick Clegg of a premium for the poorest pupils is welcomed by the Independent.
It says the move, while containing an element of political face-saving, will reassure those who believe the Lib Dem leader has sold out to the Tories.
But research for the Institute of Fiscal Studies, quoted by the Sun, suggests the premium could actually widen inequalities in school funding.
The same study is also cited in the Daily Express.
Furry wrong-doers
The Daily Telegraph reports on the result of an extensive police hunt for a gang who were systematically cutting brake cables on cars in Swindon.
Detectives were only to be told by forensic experts that the culprits were none other than squirrels.
In time-honoured fashion, residents have been urged not to have a go against the furry wrong-doers.
"Squirrels may well bite if cornered," a spokesman for the RSPCA tells the paper.