Newspaper review: Papers weigh up battle over defence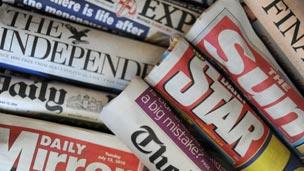 It reports that the Treasury tried to force the Ministry of Defence to make cuts, deeper than those which had been previously agreed.
Military chiefs, the paper says, have described the move as a "betrayal."
The paper argues that while there might be "huge scope for savings at the MoD", the nation's security should not be put at risk.
It says the move, while containing an element of political face-saving, will reassure those who believe the Lib Dem leader has sold out to the Tories.
The same study is also cited in the Daily Express.
Detectives were only to be told by forensic experts that the culprits were none other than squirrels.
In time-honoured fashion, residents have been urged not to have a go against the furry wrong-doers.
"Squirrels may well bite if cornered," a spokesman for the RSPCA tells the paper.
Related Internet Links
The BBC is not responsible for the content of external sites.