Model Jerry Hall's art collection fetches £2.4m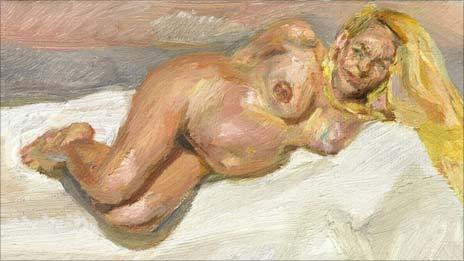 Contemporary artwork owned by model Jerry Hall fetched £2.4m at auction in London, Sotheby's has said.
Among the 14 works were Dollar Sign, a gift from Andy Warhol, and pieces by Damien Hirst and Frank Auerbach.
Lucian Freud's nude portrait of Hall, painted when she was eight months pregnant, attracted most interest and sold for £601,250, twice its estimate.
Hall, 54, said: "At a certain age you just want to just get rid of things" and she was "letting go of the past".
"It's good to be in the moment and change. I'm not afraid of change," she added.
She said she was asked to pose for Freud after meeting the artist at a party.
"When I was eight months pregnant with Gabriel [her fourth child with Rolling Stones frontman Mick Jagger] I sat next to Lucian Freud at dinner.
"He asked if he could paint me and wanted me to start the next day. I was flattered to be asked in my condition to model for such a great artist.
"I accepted and posed three times a week until I went into labour."
Warhol's Dollar Sign fetched £217,250 and Frank Auerbach's Head of Helen Gillespie went for £1,071650, beating the £700,000-£900,000 estimate.
Four pieces from the collection remain unsold.
Related Internet Links
The BBC is not responsible for the content of external sites.