Newspaper review: Afghanistan and economy in focus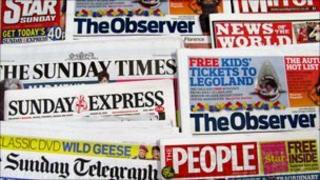 The Observer focuses on the death of Lance Corporal Michael Pritchard, of the Royal Military Police, who was shot dead in southern Afghanistan in December.
The paper says that L/Cpl Pritchard's mother Helen Perry was not told until five months later that he had been killed by a British army sniper.
The Observer is angered by the delay in reporting what happened, as well as what it sees as a lack of transparency.
It calls for "wholesale reform" of the way such incidents are investigated.
Financial crisis
The Sunday Telegraph and Mail on Sunday both reveal that three peers who have been investigated over their expenses could face suspension from the Lords.
The papers say Labour peers Lady Uddin and Lord Paul and cross-bencher Lord Bhatia will pay back the money.
The financial crisis could be driving families apart, the People reports.
It says that in a survey of 10,000 homes, more than two-thirds of parents said money problems were creating strain on their relationships.
Review anticipated
Ahead of the Spending Review on Wednesday, the Observer advises Chancellor George Osborne to "think globally before you cut".
The paper argues that the Treasury is underestimating the role of what it calls a "crisis in globalisation" in bringing about the UK's financial woes.
The Sunday Telegraph is more upbeat about Mr Osborne's approach.
Its leader expresses support for what it describes as "the coalition's determination to be tough but fair".
Hoax claims
The Sunday Mirror claims to have more information about who won the record-breaking £113m EuroMillions lottery prize earlier this month.
The paper says the winning ticket was bought in Coventry.
Camelot has apparently decided to release the information earlier than normal following hoax claims.
And the News of the World reports that a 65-year-old Surrey man has finished a seven-year pub crawl - after drinking at the county's 900 real ale pubs.