Newspaper review: Papers ponder spending strategy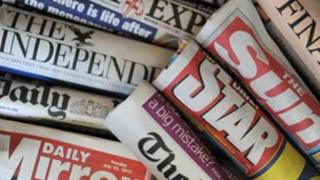 The papers consider George Osborne's likely strategy as he unveils what the Financial Times suggests could be "the mother of all negative stories".
The Daily Telegraph says the chancellor is "braced for a backlash" from Wednesday's spending review.
The Guardian predicts how Mr Osborne will try to neutralise Labour attacks.
He will stress that he is targeting "waste and welfare" in order to release more cash for spending on front-line services such as hospitals and schools.
'Economic masochism'
In an interview with the Daily Mirror, shadow chancellor Alan Johnson warns of a "lost decade" of no jobs and low growth.
He says this will be a result of what he calls the government's "economic masochism".
The Sun's Trevor Kavanagh says it will not be quite as bad as we have been led to believe.
"The skill of a good chancellor is to pluck the goose without making it squeal," he writes.
Multi-culturalism
There is analysis of Chancellor Merkel's assertion that multi-culturalism in Germany has "utterly failed".
The Daily Mail describes it as a "landmark speech", which broke one of Germany's "last taboos".
The Daily Express says almost everything she said about Germany could equally be applied to Britain.
The Independent argues if countries such as Germany are demanding greater integration by immigrants, governments will have to try harder too.
Dog tales
Former Labour cabinet minister David Blunkett reveals that his beloved guide-dog, Sadie, will shortly be retiring.
She will be swapping the tedium of meetings at Westminster for a carefree new life of walks and squirrel-chasing.
Writing in the Daily Mail, the MP looks back at Sadie's distinguished political career.
He recalls that she has been patted on the head by personalities ranging from George Bush to the Queen.