Severn Barrage: Is this the end for UK tidal power?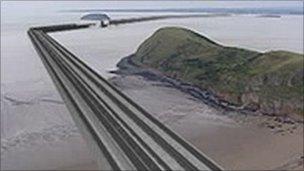 It was planned to be the UK's most iconic green energy project, reaching 10 miles across the Severn Estuary from Cardiff to Weston-super-Mare.
Now we may not see it until the 2020s or the 2030s, if at all.
Ministers say it is too expensive and too financially risky to command public finances, especially at such a time.
And although a private consortium has been formed to keep the project alive, it will still need government support in some fashion, which may not be forthcoming.
So what does this mean for UK tidal power - the Cinderella of renewables?
Well, it is certainly not the kiss of death. The government has not closed the door to a smaller scheme in the Severn in the future, particularly schemes that are less harmful to wildlife. It is also keen to hear proposals for barrages in other estuaries.
Because as far as barrages are concerned at the moment, small is beautiful. The Severn Barrage was sunk partly because of its massive impact on migrating birds - concerns which had divided green groups - and partly because of the cost, estimated as potentially spiralling from £15bn to £30bn.
But one other key downside to the barrage was that it was so big. Ministers decided that there would have been little technology learning from public investment in a project of this size.
The current thinking is that there will be far more learning from smaller barrages or from investment in carbon capture and storage, which the UK hopes might be replicated worldwide.
Business groups are generally backing the government's Severn Barrage decision on cost grounds, while wildlife groups are supporting it on conservation grounds.
Business lobbyists are also applauding the government's decision to announce support in principle for new nuclear power stations on eight sites: Bradwell, Essex; Hartlepool, Borough of Hartlepool; Heysham, Lancashire; Hinkley Point, Somerset; Oldbury, South Gloucs; Sellafield, Cumbria; Sizewell, Suffolk; Wylfa, Isle of Anglesey.
Two proposed new sites near Sellafield have been rejected because of their impact on the Lake District and there will be no new station at Dungeness in Kent - another internationally important wildlife site.
The Energy Secretary Chris Huhne re-affirmed that there would be "no (special) levy, direct payment or market support for any private new nuclear operator".
But he said new nuclear power would benefit from any general measures to encourage investment in low-carbon generation. And he would not rule out the government taking responsibility for radioactive waste, so long as the government is properly compensated by nuclear operators.
There has been much debate within the coalition over what would constitute a public subsidy to nuclear, and this may prove controversial.