Family court media reporting delays 'wise'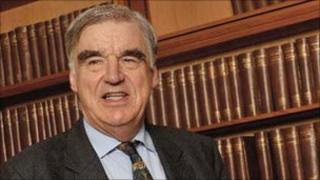 The government was wise to defer a decision on whether the media should be able to report family court hearings, according to a senior judge.
Sir Nicholas Wall told the BBC that legislation was not the best way to balance privacy against openness.
Laws intended to make family courts more transparent were rushed through Parliament under Labour.
But the senior family judge in England and Wales said the coalition had been right not to bring them into effect.
News organisations had feared that the Children, Schools and Families Act 2010 would make reporting of family cases more difficult than at present.
Last week, the government announced that it would wait for the recommendations of its family justice review next autumn before deciding whether to bring the legislation into force.
Sir Nicholas said: "I think the government is wise not to implement the present Act, which is not popular with the press, not popular with the judges and not popular, I think, with most litigants. I think we have to reach an accommodation with the press."
'Intractable' disputes
Explaining why he thought an agreement with the media was preferable to legislation, Sir Nicholas said he had been troubled when tendentious and one-sided leaks from family cases were reported in the media.
"The present Act does nothing to remedy that because the journalist can go into court on day one, report the opening and is under no obligation to report the judgment."
Sir Nicholas also said it would be acceptable for lengthy disputes over contact with children to be resolved away from the courts and without legal aid. Ministers are thought to be considering similar moves as part of this week's spending review.
Referring to what he described as the "intractable contact dispute", he said the government could legitimately take many such cases out of the system altogether
"The government would be perfectly entitled to say 'I'm very sorry, we can't afford, in the present economic climate, to fund litigation which goes on and on and on.'"
'Powerful lobbying'
Sir Nicholas was appointed president of the High Court Family Division in the spring and was giving his first media interview to the Radio 4 programme Law in Action.
His comments on transparency in the family courts were welcomed by media representatives.
Bob Satchwell, executive director of the Society of Editors, said he was pleased that the government was not bringing the new legislation into effect.
"We need to sit down and talk about it and get it right," he added. "The legislation was rushed through in response to powerful lobbying."
Mr Satchwell said the new laws would stop journalists from naming everyone involved in a family case, including the judge.
Law in Action is broadcast on BBC Radio 4 on Tuesday 19 October at 1600 BST. Or download the free programme podcast.