Profile: Navy aircraft carrier HMS Ark Royal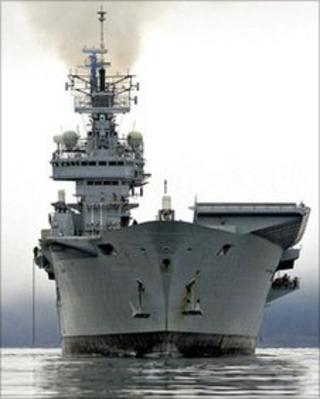 HMS Ark Royal - the motto of which is "Zeal Does Not Rest" - celebrated its silver jubilee in July 2010.
At the time, commanding officer Capt John Clink said that despite being 25 years old, the Portsmouth-based aircraft carrier "remains fully capable of delivering air power to enemy targets".
Despite this, the BBC has learned that it is to be scrapped as part of the government's Spending Review.
Bismarck attack
HMS Ark Royal is the fifth vessel to bear the distinguished name.
The first, a 38-gunship built for Sir Walter Raleigh, saw action against the Spanish Armada in 1588.
The second Ark Royal saw service in World War I, while the third played a vital role in World War II.
It launched the torpedo plane attack which crippled the Bismarck, but the British carrier was later sunk returning from Malta in 1941.
The fourth Ark Royal - commissioned in 1955 - was the first Royal Navy carrier to feature all the developments enabling jet operations, including an angled deck, steam catapult and a mirror landing aid.
The most recent incarnation of this proud family - the flagship of today's Royal Navy fleet - was built in 1978 by Swan Hunters Ship Builders' yard at Wallsend and launched by the Queen Mother, who remained the ship's patron.
It entered service in 1985 and played a key role in the Balkans conflict in the early 1990s, mainly based in the Adriatic.
Despite reaching its quarter century, Ark Royal is still a central part of the Navy's strength and is well equipped for modern warfare.
Helicopters and jets
The 20,000-ton ship is both a mobile airfield and a command and control base, and can also cruise at more than 30 knots.
Its 686 crew work alongside 366 airmen and women to keep the vessel and its aircraft running, and it is also capable of carrying a so-called Embarked Military Force of approximately 400 Royal Marines or Army personnel ready for deployment.
A range of aircraft - including Lynx, Apache, and Sea King helicopters, and Harrier jets - use it as their base.
At 210 metres (683 feet) long, Ark Royal is larger than its sister ships Illustrious and Invincible, and also has a steeper flight ramp to assist take-offs.
But it is just as versatile, able to operate almost anywhere in the world.
Aircraft carriers are key to modern defence strategy, allowing for early reconnaissance, the landing of special forces and land attack from the air.
Ark Royal took part in the invasion of Iraq in 2003 and in June this year, Ark Royal took part in celebrations marking the centenary of the Canadian Navy in Halifax, Nova Scotia, in the presence of the Queen.
In July, the carrier celebrated its silver jubilee while on operations off the US east cost. Crew members formed the shape of the number 25 on deck for a special aerial photograph.