Spending Review: Thousands protest against planned cuts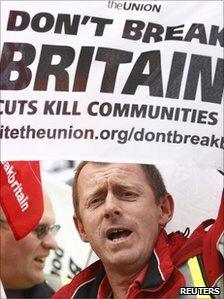 Health workers, council staff, firefighters, teachers and other public sector employees have joined protests against government spending cuts.
Thousands in Westminster cheered speeches by union leaders before lining up to lobby MPs about cutbacks to be unveiled in the government's Spending Review on Wednesday.
Unions, fearing a million job losses, said up to 3,000 people protested.
All government departments are expected to see budgets reduced significantly.
At a meeting in Westminster Central Hall, Dave Prentis, general secretary of Unison, said: "The coalition is taking a chainsaw to our public services and we are under attack, not because of a deficit, but because of an ideology.
"We will build an alliance of all public service unions to break the pay freeze, protect our pensions and stop the cuts.
"For every one of us in this room today, we will bring a hundred more. We'll march in our thousands and we'll vote in our millions."
Crowds were also addressed by Sherlock Holmes actor Benedict Cumberbatch, protesting about cuts to arts funding.
And Lizzie Louden, a 14-year-old pupil of Leytonstone School in east London, said students had been looking forward to improvements to buildings before the government cancelled the Building Schools for the Future scheme.
She said she was "angry" at the decision, complaining that some buildings contained asbestos, while pupils refused to use the toilets because they were in such a "terrible" state.
Protesters also planned to lobby MPs inside Parliament.
Labour leader Ed Miliband did not join the demonstration, but aides denied the decision was a U-turn despite his declaration last month that he would "definitely" attend.
Union leaders criticised Tory MPs who would not meet protesters, saying they were turning their backs on constituents, some of whom had travelled "hundreds of miles".
Related Internet Links
The BBC is not responsible for the content of external sites.