Newspaper review: Titles reflect on carriers 'fiasco'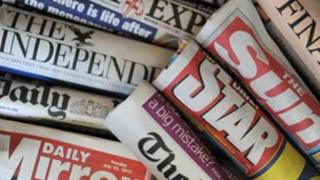 On the day the government publishes its defence review, several papers report that HMS Elizabeth - one of two new aircraft carriers being built - will be mothballed after just three years.
It will also carry helicopters not jets, which the Sun says will "raze the Royal Navy's power".
The Times headline is stark: "HMS Ignominious: £5bn carrier fiasco".
The Daily Telegraph likens the plans to an episode of the long-running BBC radio sit-com, the Navy Lark.
'Payback time'
The Financial Times claims the replacement for the Trident nuclear system will be delayed by up to five years to save money in the short term.
The paper says the move is "an important payback by the Conservatives for the U-turn by Nick Clegg and his colleagues over tuition fees".
The Guardian says "heavy metal kit" like Trident will not help against 21st Century security threats.
Terrorism and cyber-attacks need a very different approach, it adds.
Pastures new?
There's only one sports story in town - what will Wayne Rooney do next?
The Daily Mirror claims Manchester City are preparing a "stunning £100m move" for the striker, who is said to have fallen out with Manchester United boss Sir Alex Ferguson.
The Daily Star agrees on his likely new club, but claims he's in line for "a bumper £500,000-a-week contract".
The Independent says a "Fifa loophole" means Rooney could terminate his contract with United and leave his old club with just £5m in return.
'Maladroit attempt'
"A drama too far" - that's the Daily Mail's verdict on a Channel 4 programme that imagines the kidnapping of Prince Harry in Afghanistan.
The paper calls it a "maladroit attempt at infotainment".
Screening it in spite of pleas to cancel would be "hugely offensive to every soldier risking their lives (not to mention the Royal Family)", it adds.
The Daily Express says that according to "friends", the prince is "appalled at the prospect of the screening".