Victim payouts to be reviewed after 7/7 London bombs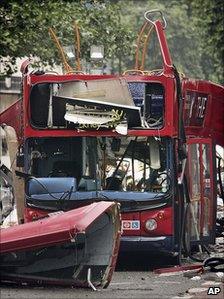 The government's scheme compensating victims of crime is to be changed as a result of the 7 July London bombs, Justice Secretary Ken Clarke has said.
He said the Criminal Injuries Compensation Scheme was subject to "huge delays" and had not received enough funding to keep up with claims.
Four suicide bombers killed 52 people and injured hundreds more when they bombed three Tube trains and a bus in London on 7 July 2005.
By July 2010 victims had received £11m.
Mr Clarke's comments came in the Commons, after Labour's David Winnick MP asked how many victims of the London bombs awaited compensation and who held responsibility.
Mr Winnick added: "As regards the claims which have been finalised, are you aware there's a good deal of dissatisfaction, by those who received them, that the sums are really inadequate bearing in mind the serious injuries inflicted by the mass murderers?"
Mr Clarke said the coalition government had inherited a compensation system that "simply has not received adequate funding in each year's budget to keep up with the level of claims".
He said: "We are going to have to look again to see how we can produce a system that works more efficiently, is actually affordable and doesn't just depend on huge delays before anything is paid because nobody has allocated any money to settle all the claims outstanding."
He added: "Everything possible is done to give the compensation that's due to people as quickly as possible.
"I note your remarks about the disappointment that some have felt."
Related Internet Links
The BBC is not responsible for the content of external sites.